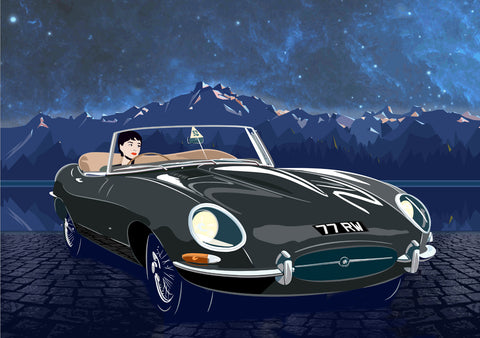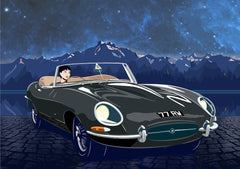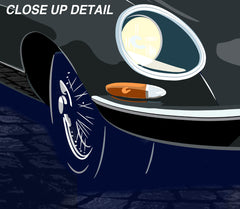 Jaguar E-Type Celebrated with 60 Limited Edition Posters
"The most beautiful car ever made"
Those were the words of Enzo Ferrari (probably through gritted teeth) at the launch of Jaguar's E-Type. It was an opinion shared by visitors to the 1961 Geneva Motor Show - and the public at large - when the first stunning photographs appeared. 
Dashing through the night
Everything about the E-Type was sensational - its sinuous lines, seductive curves, g-force-inducing performance... even the way it arrived for its debut was dramatic. Apparently Sir William Lyons (Jaguar's chairman) decided - at the last minute - that a second, convertible car was required in Geneva. So at 7pm, the evening before the launch, test driver Norman Dewis left the Coventry factory and drove - almost flat out - the 730 miles to the Swiss capital. Then after a quick wash and polish the Sherwood Green Roadster pictured here appeared on the Jaguar stand.
Stunning at sixty
Although originally conceived for racing at Le Mans, the popularity of the E-Type meant Jaguar didn't need racing success to boost sales. And celebrity owners like Frank Sinatra, George Best, Tony Curtis and George Harrison enhanced its image as the coolest set of wheels around. If the Mini Cooper symbolised the 'swinging sixties' the E-Type Jag epitomised the super-stylish, fast-living, hedonistic spirit of the decade. And in the last sixty years, has any sports car or super-car quite matched the sheer 'drop-dead-gorgeousness' of the E-Type? It's a rhetorical question - this 'big cat' is the classic among classics.
Artist: Gary Bigwood returned to drawing after many years in advertising. Lockdown was the spur and the much coveted E-Type was his inspiration. And what more iconic model than the first roadster, registration 77RW? Gary's shown it beside a starlit Lake Geneva and - allowing himself a little artistic licence – a seated Audrey Hepburn lookalike at the wheel (well, if you're going to dream, dream big!). 
Tech Spec: Each numbered superb quality Glycerine print are available in A2 594 x 420mm (23.4x16½in) or A3 size 420x297mm (16½x11¾in) and A4 297x210mm (11¾x8¼"). Produced on the highest quality 330gm fine art paper archival paper. And each will be delivered - along with a certificate of authentication - in a sturdy cardboard tube.
Remember: this is a strictly limited edition of 60 prints (whatever size) with a high anticipated demand. So act fast - and grab a piece of British motoring history now!