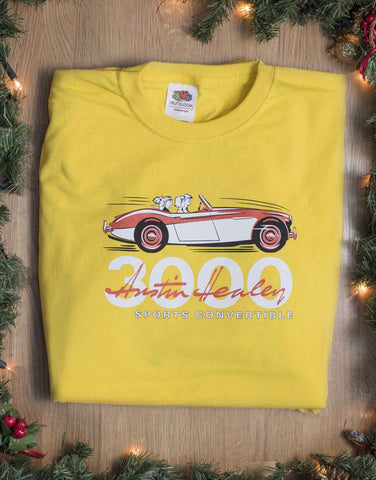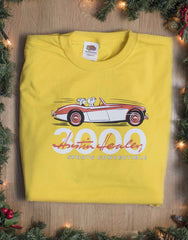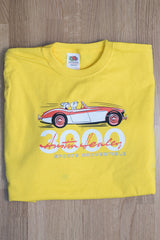 Children's duster yellow T-shirt featuring an Austin Healey 3000
Never lose the kids (or grandchildren) again! 
Ideal on a crowded beach and they're sharing your passion for classic cars too! Our T-shirt features an Austin Healey 3000 in launch guise, in the style of launch material back in the summer of 1959, amazing to think 60 years ago!. A good example of this car could set you back around £50,000 but these Limited Edition T-Shirts are a bargain.
The plain facts:
60th anniversary celebration T-Shirt 
The launch model had two (but very small) rear seats – hence the 2+2.
It was manufactured by BMC (the British Motor Corporation) between 1959 and 1967.
Big Healey, big engine – 6 cylinder 2,912cc.
The Austin Healey 3000 replaced the Austin Healey 100-100-6 series.
A total of just under 43,000 Mk1, Mk2 and Mk3 Austin Healey 3000 Sports Convertibles rolled off the line at BMC's Abingdon works before production ceased in 1967.
And some rather more colourful, esoteric little snippets for the real enthusiast …
The Austin-Healey 'brand' was born of a 20-year (1952-1972) agreement between BMC's Leonard Lord and one Donald Healey. At the time BMC needed Donald Healey's sports car design and engineering experience to exploit valuable export opportunities.
The body panels for the Healey 3000 were actually manufactured at the rival Jensen Motor works in nearby West Bromwich.
Donald Healey eventually left BMC (then British Leyland) in 1968 and later joined Jensen to became their chairman in 1972.
Featuring image in the style of original 1959 launch material for Mk1 2+2 model
100% cotton – fine gauge, extra soft Belcoro® yarn (165gm/m2)
Great to wear – with features like taped neckline for extra comfort
Beautifully finished with twin needle stitching detail
Highly durable, great shape retention & machine washable at 40°
This is a Limited Edition T-shirt, so order whilst we've got stock
The 14-15 teenage size looks great on slim women