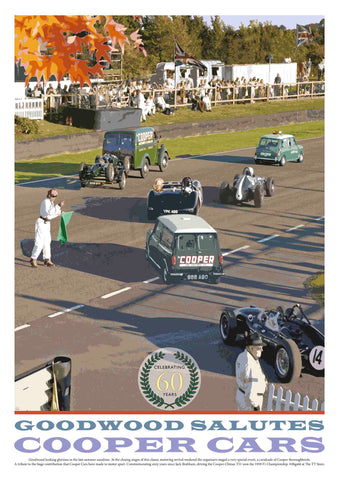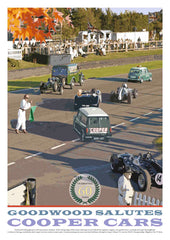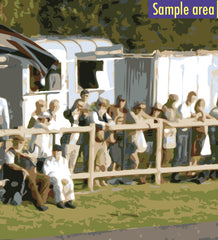 Goodwood Salutes Cooper Cars – Limited Edition Poster of just 100
Produced in a limited edition of just 100. Goodwood looked glorious in the early autumn, late afternoon sunshine in September 2019. And at the closing stages of the classic revival motoring weekend the organisers arranged a very special event. It was a tribute to the huge contribution that Cooper Cars have made to motor sport over seventy years, and took the form of a cavalcade of thoroughbreds.
The Cars
Capturing that magical moment is what this Limited Edition Poster does so evocatively. Here are some of the machines that dominated sports car racing, rallying and Formula 1. The culmination being the 1959 season that saw the Cooper Climax T51 driven by Jack Brabham win the manufacturers' and drivers' F1 championships. The first mid-engined F1 car (the innovative Cooper Climax) was constructed in a configuration that has remained essentially unchanged to the present day. The dominance of the Mini-Coopers with numerous rally successes including the Monte Carlo wins in 1964, 65 & 67 (not counting 1,2,3,4th in 1966). In 1966 they were all disqualified because they used non-dipping single filament quartz iodine bulbs in their headlamps...the new winner was a Citroën ID!
The Artist
Gary Bigwood is a self-confessed classic car/bike enthusiast. He's worked in advertising and graphic design for many years, as well as creating the iconic designs featured in The TT Store and was prolific drawing over 30 classic cars under #Bigs66 (during Covid-19 Lockdown) which can be viewed at worldwide site Redbubble. The style looks almost photographic (from a distance) but is made up of a series of random shapes – which gives a distinctive style.
The Poster
Produced in a limited edition of just 100, these stylised posters are printed to the very highest standards in 8 colours on fine art-quality press on a 270gsm satin paper by a specialist Fine Art Printer. Available in AO = 841 x 1189mm (33.1 x 46.8 inches),  A1: 594 x 841mm (33.1 x 46.8 inches), A2: (420 x 594mm / 23.4 x 33.1 inches) and A3: (297 x 420mm / 11.7 x 16.5 inches). Each poster is individually signed and numbered and will be dispatched in a tough reinforced cardboard tube together with a card confirming its limited edition status.
The opportunity
Remember, only 100 will be produced (100 total in all sizes) for a worldwide market. Please place your order now! Numbers 1-10 are reserved for the superb AO and A1 sized poster (33.1 x 46.8 inches) and some still available which looks glorious if you've space to hang it.
Check out our Facebook page > > https://www.facebook.com/TheTTStore.