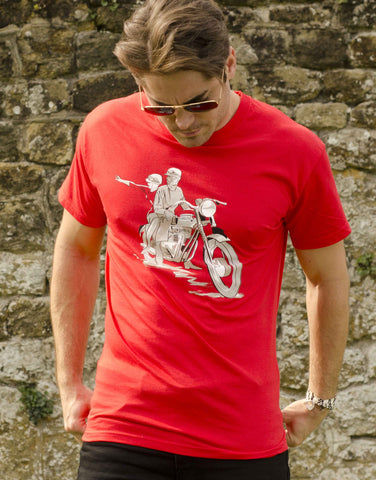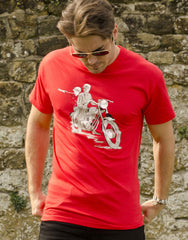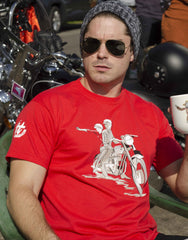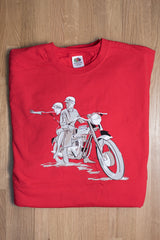 60th celebration red T-shirt featuring the iconic Triumph Bonneville T120
Launched at the London Earls Court Motorcycle Show in November 1958 in a Pearl Grey and Tangerine colour combination. This great 3 colour silk screen design on a quality Fruit of the Loom garment to celebrate the T120s 60th year. Our illustration features rider and pillion on their 1961 Triumph Bonneville T120, resplendent in their Corker 'safety' helmets and Climax Goggles – a snapshot of a late 1950s early 60s couple. Film legends Steve McQueen, Marlon Brando and Clint Eastwood went on to ride their Triumph Bonnevilles on and off screen. Also available in Navy or Heather Grey.
Featuring 1960s press ad-style illustration of Triumph Bonneville T120

100% cotton – fine gauge, extra soft Belcoro® yarn (165gm/m2)

Great to wear – with features like taped neckline for extra comfort

Beautifully finished with twin needle stitching detail

Highly durable, great shape retention and machine washable at 40°
The plain facts:
The Triumph Bonneville T120 was launched in 1958 ('59 model year) to commemorate Texan racer Johnny Allen and his team setting the 1956 world motorcycle land speed record at Bonneville Salt Flats in Utah
Our featured T120 rumoured to be the pinnacle of pre-unit Bonnevilles (so says The Classic Motor Cycle, Sept 2017)
The bike continued to be built until 1973.
And some rather more colourful, esoteric little snippets for the real enthusiast…
Johnny Allen and his team set the 1956 world motorcycle land speed record with a spectacular average speed of 214.17 mph.
The Triumph Bonneville T120 was an instant success in the US – not only because its popularity with film stars massively boosted its image and appeal, but because it offered a reliable, cost-effective means of transport at a time before car ownership was widely affordable
In the 1969 Isle of Man TT, Malcolm Uphill averaged 100 mph around the Mountain Course on a Bonneville – a first for a production bike
Our T120 is rumoured to be the pinnacle of pre-unit Bonnevilles (so says The Classic Motor Cycle, Sept 2017)
A 21st century incarnation of the T120 was recently been introduced by Triumph and retains a flavour of the original