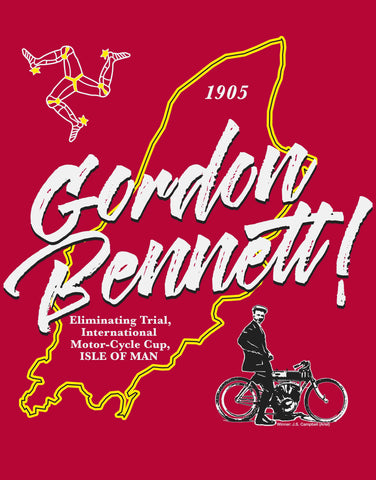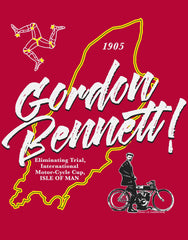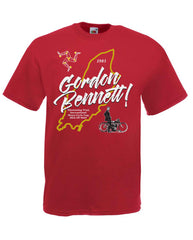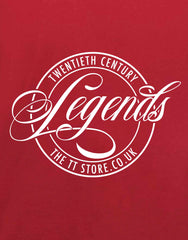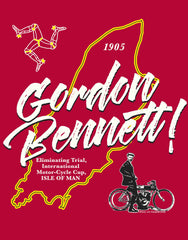 Gordon Bennett! – the pre-classic TTT-Shirt. The background behind the legend...
...Gordon Bennett! – an exclamation of incredulous surprise! 
Gordon Bennett was the sponsor of many Motor, Motorcycle, Balloon, Flight and Ship/boat races in the late 1890s and early 1900s. In 1905, the inaugural International Motor-Cycle Cup selection Race for British riders was held in the Isle of Man on a 25-mile 'short' road section named the 'Gordon Bennett Trial'.
The expression Gordon Bennett, relates to (then) 35 year old, all-round hell-raiser James Gordon Bennett Jr. Son of wealthy New York Herald's Scottish owner (and Irish mother) – another Gordon Bennett.
It's reputed that at the New Year party in 1878 at his fiancée Caroline May parent's house, he turned up late, intoxicated and proceeded to urinate in a fireplace, (mistaking it for a toilet...apparently). This was in front of his hosts and other guests... and the expression 'Gordon Bennett' was first heard...it also put a hasty end to the forthcoming nuptials... 
...The Guinness Book of World Records, bestowed the 'Greatest Engagement Faux Pas' on Gordon Bennett and considered a reason for the exclamation 'Gordon Bennett'.
Later in life Gordon took the reigns of the aforementioned publication and indulged himself in spending the family fortune, including lavish sponsorship of many sporting events.
Our Gordon Bennett T-Shirt commemorates just over a 100 years since his passing plus all the brave men (and women) who hurtle around the Isle of Man on their motor cycles during race season. No doubt you'll hear the expression Gordon Bennett on occasion!
Gordon eventually married for the first (and only time) at the ripe old age of 73
It was rumoured that Gordon (whilst under the influence...again) had driven a horse and carriage around Manhattan at great speed in the early hours of the morning – wearing only a black top hat. You'd think this was a one-off but NO – later when living in Paris he performed the similar stunt this time down the Champs Elysees (in the early hours) – but this time wearing only a white top hat!!
T-Shirt is 'Manx' Red, 100% Cotton, 165gm, Fruit-of-the-Loom garment printed via quality silk-screen in 3 colours with water based inks that give that lovely flat look

Small 7.5cm 'Legends' logo printed below neckline on reverse
The current Tourist Trophy Bike racing (on the IOM) started in 1907
Current IOM Race sponsors 'Bennetts' had another Gordon Bennett at the helm of the family business in 1966 (but no relation!)
Many Australians use the expression 'Gordon Bennett' as Barry Sheene often used it in bike race commentry when living on the Gold Coast in Australia – from the late 1990s and early 2000's
The winner of the first IOM motorcycle race in 1905 (featured on the T-Shirt) was J.S. Campbell riding an Ariel (with a J.A.P engine), his average speed over the race was 30.04mph. Peter Hickman on a BMW holds current average speed record of

135.452 

mph (2018)
This T Shirt is the pre-TT T-Shirt from The TT Store (try getting that many TTs in another sentence!). 
This is a Limited Edition T-Shirt - order now whilst stocks last
PLEASE NOTE: If you can't find your size we also offer a very similar design full range of sizes and decor items on our 'Bigs66' Redbubble site> https://www.redbubble.com/shop/ap/83858083?ref=studio-promote