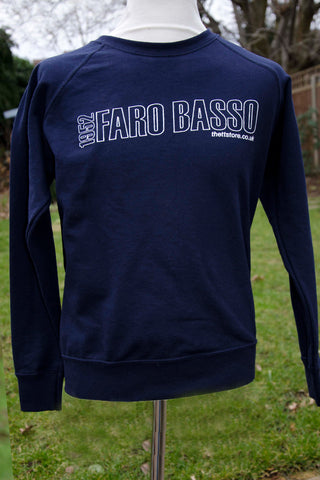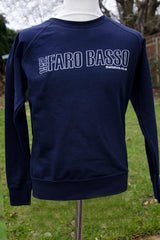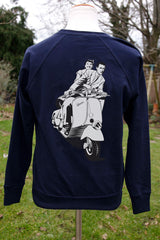 Ladies' 'Faro Basso' Lightweight Classic Navy Sweatshirt
"The best thing to hold onto in life is each other" Audrey Hepburn
Bask in a spot of feel-good Roman Holiday-style 1950s glamour with Audrey Hepburn holding onto her man, Gregory Peck, aboard that Vespa Faro Basso. Also available in a hoody. A lovely sounding scooter name 'Faro Basso' means low light in italian.
Featuring image of the impossibly glamorous trio - Audrey Hepburn, Gregory Peck and the Vespa Faro Basso in the 1953 movie, Roman Holiday

Shapely, flattering, way-too-comfy-to-take-off women's fit

80% cotton (fine gauge, extra soft Belcoro® yarn) blended with 20% polyester for optimum softness and shape retention; 240 gsm weight

This unbrushed fleece is perfect for spring and summer

Beautifully finished with twin needle stitching detail and cotton/lycra® rib at cuffs and hem

Machine wash at 40° 
The plain facts:
Sales of the Italian, Piaggo-manufactured Vespa Faro Basso surged by 40,000 in the year that the black-and-white movie Roman Holiday was released (Such is the power of product placement!). Both scooter and movie have since become 20th century classics. Cosy up on a wet afternoon and watch it – you're in for a treat.

The Vespa design was first patented back in 1946 and its iconic look has changed remarkably little in the nearly-70 intervening years.
And some rather more colourful, esoteric little snippets for the real enthusiast …
In 1953, when the film was released, Gregory Peck was a popular 48-year old actor. Audrey Hepburn, on the other hand, was just half his age at 23, and a newcomer. Peck is said to have suggested to Film Director and Producer William Wyler that he elevate her to equal billing, saying "You've got to change that because she'll be a big star and I'll look like a big jerk".