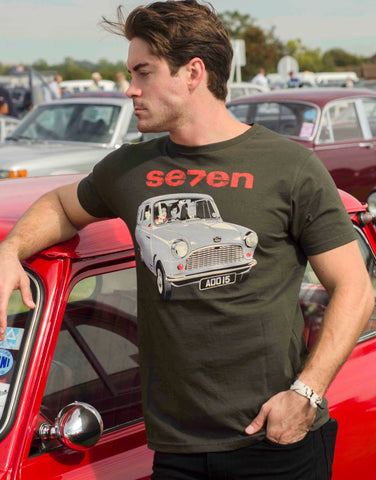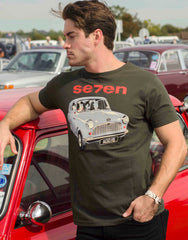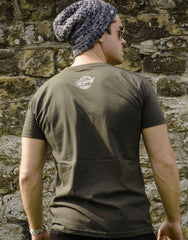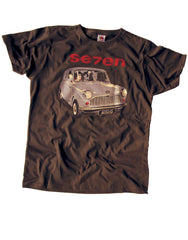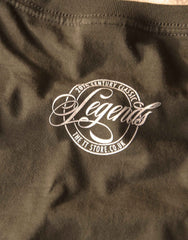 100% Cotton Charcoal 'fitted' T-shirt – featuring a 1959 Austin 7 'mini'
Our T-shirt sports a Farina Grey Austin se7en in 'launch' guise. It wasn't until 1961 it was renamed the Austin Mini, and eight years later that Mini became a marque in its own right. Although launched as an economic run around it soon found cult status with the 1960s in crowd.
Also available in light grey.
Skillfully crafted illustration – influenced by 1959 original launch material and no expense spared in printing in 4 colours on the front (and one colour on rear) by silk screen print

100% cotton, fine gauge (165gm/m2)

Great to wear – with features like taped neckline for extra comfort

Beautifully finished with twin needle stitching detail

Highly durable, great shape retention and machine washable at 40°

See 'fitted' challenge (final para) below to ensure you order the correct size 

Small 'Legends' logo below neckline on rear 7.5cm
The plain facts:
Designated by Leonard Lord of BMC as project: Amalgamated Drawing Office project number 15 – hence our car registration number ADO 15

Issigonis, was recruited by BMC in 1955 for his skills of designing small cars that meant he was a natural for the 'mini' task

 

The Mini's development was accelerated by fuel shortages caused by the 1956 Suez Crisis 

 – when fuel was severely rationed

The BMC A series engine was a 848cc unit, fitted transversely and driving the front wheels through an integrated gearbox.

The 'Mini' team was remarkably small: Issigonis, Jack Daniels (who had worked on the Morris Minor), Chris Kingham (from Alvis), and two engineering students and four draughtsmen.

At launch only 3 colours were available, Speedwell Blue, Tartan Red and Farina Grey

The Mini Cooper that followed paved the way for international race and rally success. Winner of the Monte Carlo rally on 3 occasions
And some rather more colourful, esoteric little snippets for the real enthusiast …
By the year 2000 over 5 million (5,387.862) mini (all variants) had been produced and of that over 1,500.000 had been sold in Britain alone

Awarded "Car of the Century" by

Autocar magazine 1995, as well as "Number One Classic Car of All Time" by Classic & Sports Car 

magazine in 1996

Fitted challenge:

 Jeans on, top off and straight back. Look down - can you see your belt buckle? If the answer is yes, chances are the fitted T-shirt is for you!. 

Also if you're at the top end of a size (e.g. 43 inch chest), Large = 41-43 inch chest) go for an XL (extra large) as they are @ 10mm slimmer on the body width (than our regular fit t-shirts) and a tighter fit on the arms too.