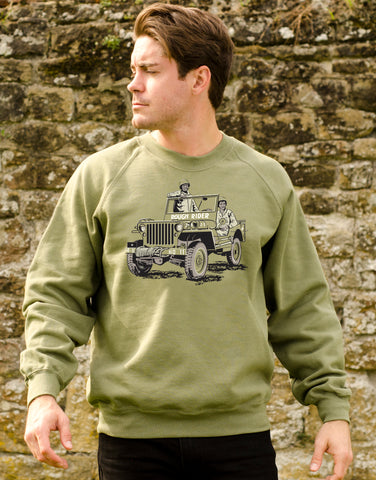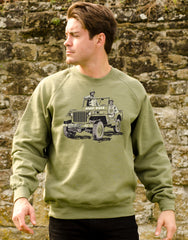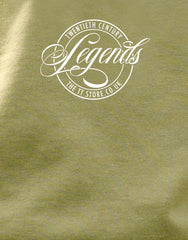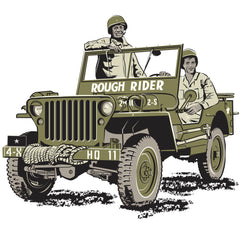 Legends & Heroes Sweater with WW2 icon and a D-Day hero
HIT THE BEACH RUNNING
Show your respect for the fighting men who freed Europe from Nazi tyranny - by ordering (and wearing with pride), this terrific Sweater. Created to commemorate 75 years since the D-Day Landings, it depicts Brigadier General Theodore 'Ted' Roosevelt standing in his personalised 'Rough Rider' Jeep. 
The General 
At the age of 56, Ted Roosevelt was the oldest serving officer to fight on the beaches - providing inspiration and cool leadership to the GIs who followed him. A born soldier, he was the son of Theodore Roosevelt who led the cavalry charged at the Battle of San Juan Hill during the Spanish American War of 1898.
The Jeep
Some 640,000 Jeeps were built between 1941-5. Hugely successful, they were the practically indestructible workhorse of the Allied Forces in every theatre of war. Ted called his personal vehicle the 'Rough Rider' as a salute to the volunteer cavalry regiment commanded by his father in Cuba in 1898.
The Sweater
Designed by the TT Store, the Rough Rider Sweater features an illustration on the front and a single colour on the back. Beautifully made by 80% cotton/20% Polyester, fine gauge Classic Olive colour (280gm/m2). Soft and wonderfully comfortable - like all TT Store T-Shirts, Hoodies, and Jackets - it's very durable and retains its shape machine-wash after machine-wash.
The next step
On the June 6th 2019 it will be exactly 75 years since D-Day (Operation Overlord) - the greatest amphibious attack in history. To say that demand for our Rough Riders is expected to be huge a 'classic British understatement'. All the more reason to avoid disappointment and get your order in NOW.
Classified Information
Brigadier General Roosevelt was one of the first soldiers off his landing craft and led the 8th Infantry Regiment and 70th Tank Battalion landing at Utah Beach.
Outstandingly courageous, Roosevelt was nevertheless seriously ill and died from a heart attack a month later. He was posthumously awarded the highest US military decoration - the Medal of Honour - for his D-Day heroism.
As well as being the son of the 26th President, Ted Roosevelt was also related to FDR - president during most of World War II.
The original design for the Jeep was put out to tender to 135 companies, giving them just 49 days to produce a working prototype. Only two replied: Bantam and Willys-Overland. 
Although Bantam's design was chosen, the company couldn't manufacture vehicles in sufficient volume - so Willys-Overland took over mass production.
As demand for Jeeps increased, Ford also built them to the same US military specifications. To tell the vehicles apart, Willys had a 'W' stamped on the bolts and components while Ford had 'F' stamped on theirs.
Also available in a T-Shirt PLUS a SLIM-FIT T-Shirt (click to re divert)