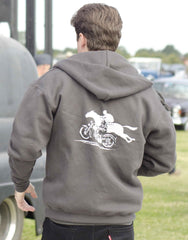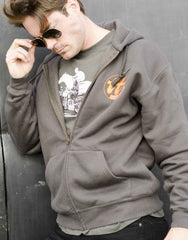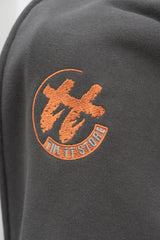 Men's charcoal zipped hoody featuring a 1932 Harley/Horse Race
Back a winner! A horse races the Harley-Davidson 74 'stick shift' in the style of the 1932 ad for the V twin model – there can only be one winner…iconic ad, iconic bike – and now iconic hoody (and T-shirt  too).
Featuring image of Harley-Davidson 74

 

's

tick 

s

hift' 

racing a horse, in the style of the 1932 ad
Two front pouch pockets and covered zip
Super comfortable with features like soft tape around back neck (280gm/m2)
Soft, heavyweight 70% cotton, 30% polyester yarn for great shape retention
Quality finish with robust features like ribbed waist and cuff; draw string tape
Highly durable, great shape retention and machine washable at 40°
The plain facts:
This Harley-Davidson 74 Stick Shift (flathead) was built in 1932. The first 74 cubic inch V-twin engines, however, had originally been introduced on the JD and FD models back in 1922.
And some rather more colourful, esoteric little snippets for the real enthusiast…
By 1933, one year after the arrival of the Harley-Davidson 74, the motorcycle industry was feeling the effects of the Great Depression. In a move to stimulate sales, Harley-Davidson began painting an art-deco 'eagle' on all gas tanks. This marked the start of graphic designs on all Harley-Davidson motorcycles.
Harley-Davidson are renowned for their big V-twin engines (as first introduced in 1922). In WWII, however, the US Army requested that they develop a model based on a captured Nazi BMW horizontally opposed, shaft-driven R71. This was the XA. The XA oil temperature was said to run 100°F (37°) cooler than the V-twin Harley-Davidson of the time. But the XA did not last long and production ceased before the end of the war. 
The Harley-Davidson story began back in 1901 when one William S. Harley, aged 21, completed a blueprint drawing of an engine designed to fit into a bicycle. Two years later, in 1903, William S. Harley and schoolfriend Arthur Davidson made the first Harley-Davidson motorcycle from a small wooden shed which served as their 'factory'. By 1904, the first Harley-Davidson dealer opened for business, by 1907 the Harley-Davidson Motor Company was incorporated and by 1920 Harley-Davidson was the world's largest motorcycle manufacturer, with over 2,000 dealerships in 67 countries.