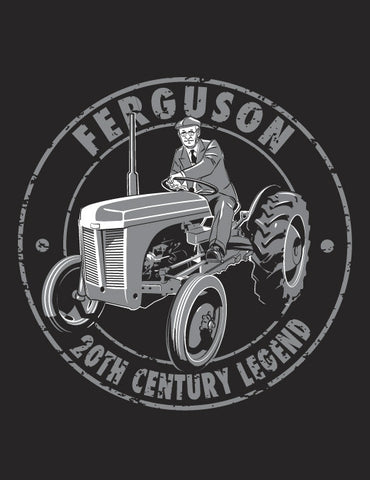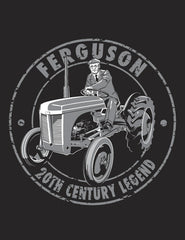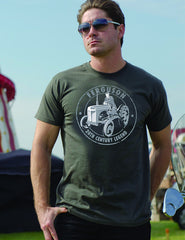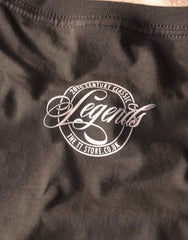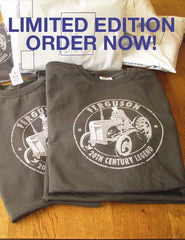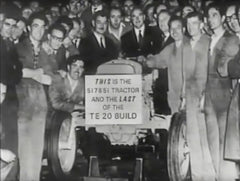 Ferguson TE20/TO20 T-Shirt in 100% cotton light graphite colour
ONLY Small left. Why not check the quick link to our other store bigs66 at Redbubble with lots of Fergie stuff > Bigs66.redbubble.com
We're celebrating the life and works of Harry Ferguson and his most famous creation, the Ferguson TE20/TO20 (Little Grey Fergie) with this Limited Edition T-Shirt of ONLY 100. Its got that 'retro' look however its a brand new, top quality, silk screen printed Fruit-of-the-Loom T-Shirt that will wash and last for years (just like an old Fergie). Featuring Harry on his TE20 at his Cotswold estate, Abbotswood which is now owned by David and Victoria Beckham.
The plain facts:
Ferguson was one of the most influential figures in 20th century agriculture after he patented the 3-point linkage system in 1920s which revolutionised mechanised farming, and is still used by most tractors – to this day
It was said that each working horse needed between 3 and 5 acres of land per year to produce enough food for its own consumption, so you can see why the T20 was embraced by many smaller farmers – it was so versatile and productive – and with a small engine, very economical too
From 1936-1956 over a million of these 20hp 'Fergie' type tractors were produced, firstly the Ferguson-Brown, then the US built Ford-Ferguson 9N & 2N (400,000+), followed by the Ferguson TE20 at the Banner Lane Factory in Coventry (517,651) additionally, from 1947 the Ferguson TO20 in the Detroit, Michigan works (140,000) 
TE=Tractor England, TO=Tractor Overseas and 20 = horse power 
And some rather more colourful, esoteric little snippets for the real enthusiast …
This design has only a Limited Edition print run – so order yours now before they're all gone
In 1936 Ferguson and David Brown developed the tractor in Huddersfield, however this working relationship was terminated in 1939 after only 1,356 had been produced. David Brown went on to produced a larger VAK 1 tractor – which sold well during the war years
In 1938 a handshake agreement between Henry Ford & Harry Ferguson resulted in a Ford-Ferguson 9N (and N2) being produced for the US market, along with a UK version to follow, sadly this didn't happen for various reasons, and WW2 intervened
After WW2, in 1946 Ferguson moved to the huge million square ft government built, ex aero engine plant in Banner Lane, Coventry - run by Standard Motors. Here they produced an updated version of the 1938 'Ford 9N' – named the Ferguson TE20 unitising the same engine as used in the stylish Standard Vanguard car of 1947
Also in 1946 Ford launched a 'new' 8N tractor  which looked much like the previous Ford-Ferguson N9/N2. Apparently Ferguson was furious and sued Ford for use of his patents, after a lengthy legal battle (David vs, Goliath as it was dubbed at the time) an out-of-court settlement of $9,250.000 was agreed in Fergusons favour
Ferguson twice refused a 

knighthood, once by

 Winston Churchill. 
In 1953 Ferguson merged with Canadian manufacturer Massey-Harris and the company was re-named Massey Ferguson from 1958
Ferguson famously tossed a coin for a million pounds…and lost. When he concluded details of the sale to Massey-Harris in 1953, the French business interests had been omitted from the sale agreement - and rumoured  to be valued at £1 million. Harry suggested they toss the difference… and lost!. Visit the

Lygon Arms at Broadway, Cotswolds and you'll see where the half-crown was tossed. The sale to Massey-Harris was for £16 Million (in today's money approx. £415 million).

In 1909 Ferguson designed and flew the first monoplane in Ireland – as well as racing motorbikes in his youth 

The TE20 had various versions over its 10 year production period including; engine options of petrol. TVO, 

diesel and lamp oil
T-Shirts are 100% cotton – fine gauge, extra soft Belcoro® yarn
Great to wear – with features like taped neckline for extra comfort
Beautifully finished with twin needle stitching detail (165gm/m2)
Highly durable, great shape retention and machine washable at 40°
Discrete 7.5cm 'Legends' logo below neckline on back.
Henry George "Harry" Ferguson was born in Growell, near Dromore, County Down, Northern Ireland on 4 November 1884 and died 25 October 1960, just a few days before his 76th birthday.
Check out our revised Fergie designs >