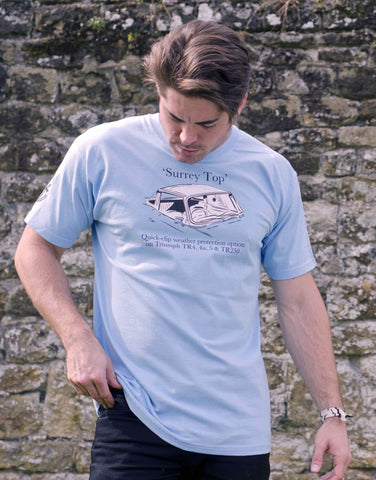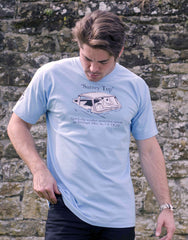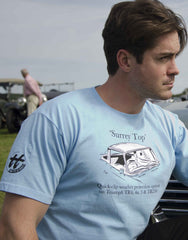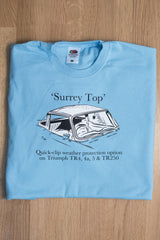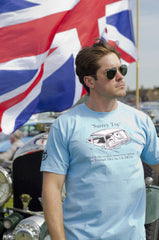 Men's cornflower blue T-shirt featuring a Triumph TR 'Surrey Top'
Celebrate over half a century of the 'Surrey Top' TR Classic Sports car
Cornflower Blue or Signal Red! These TRs are one of car designer Michelotti's finest creations. Never let the erratic British summer weather spoil your fun! For the 1960s owners of TR4 and TR5s caught in the rain while cruising country lanes or London's Kings Road, the solution was the fold-down quick-clip vinyl roof, known as the 'Surrey Top'. Also available in Signal Red.
Featuring illustration of quick-clip 'Surrey Top' for TR4 and TR5

Its amazing to think that 2017 marked the 50th year of the introduction of the TR5
The plain facts:
The Surrey Top was designed to be easy to take with you in case of inclement weather. You left your 'Hard Top' at home and stowed the fold-down vinyl Surrey Top behind the seat or in the boot of the car, then whipped it out and clipped it on if the skies opened.
And some rather more colourful, esoteric little snippets for the real enthusiast …
The 'Surrey Top' name caught on – and was (still is!) often used to describe the vehicle's detachable hard top.
The Triumph TR5 was only built for just over a year, between 1967 and 1969. The almost identical (albeit less powerful) TR250 was built at the same time for the US market but fitted with twin Zenith-Stromberg carburettors, rather than the TR5's Lucas fuel injection, in order to comply with US emission rules.
These TRs are one of car designer 

Michelotti's finest creations