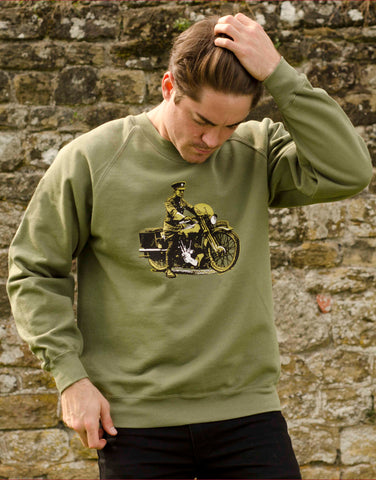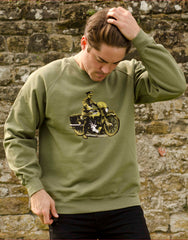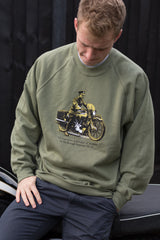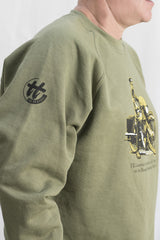 Men's Olive sweatshirt featuring a Brough Superior SS100
The enigmatic, bike loving legend T.E. Lawrence (Lawrence of Arabia) is featured on his prized Brough Superior SS100. Our Olive coloured Sweater commemorates a century since the influential role T.E Lawrence played in orchestrating and mobilised Arab Forces against the Ottoman/Turks in the Middle East in WW1. He devised and led commando style raids on the Turk controlled Hejaz railway supply lines causing havoc whilst minimising casualties. Our sweater commemorates 100 years since the end of WW1. Lawrence became a passionate biker and derived much pleasure riding his Brough Superior(s) – at speed, particularly after the ravages of war.
Soft, heavyweight 80% cotton, 20% polyester Belcoro® yarn

Great to wear with cosy fleece-finish inside (280gm/m

2

)

Highly durable, great shape retention and machine washable at 40°.

No text under bike image (and Legends logo on back) on Large and XL sizes
The plain facts:
The 1000cc Brough Superior SS100 was legitimately advertised – and widely regarded – as the 'Rolls Royce' of motorcycles in the 1930s.
All Brough Superior SS100s were hand built and came with a guarantee that they were capable of 100mph.
T.E. Lawrence CB, DSO (aka Lawrence of Arabia) owned seven Brough Superiors during his lifetime (an eighth was on order at time of his death)
And some rather more colourful, esoteric little snippets for the real enthusiast …
The Brough Superior design was constantly evolving because manufacturer George Brough knew a thing or two about customer service back in the 1920s – and encouraged owners to put forward suggestions for improvements.
George Brough was originally involved in the 'Brough' family business. Following a disagreement about the direction of the business, he left and set up as 'Brough Superior' to produce his 'superior' product.
T.E. Lawrence (known as Lawrence of Arabia through his WW1 role in the then Ottoman Empire) is much better known for his role in WW1 and his great writings than for his contribution to motorcycle safety. His 'Seven Pillars of Wisdom' is said to rank amongst the best books ever written in the English language
It was Lawrence's death at the age of 46, from head injuries incurred in a motorcycle accident, which led to the initial introduction of crash helmets for motorcyclists. This came about when Hugh Cairns, the neurosurgeon who treated Lawrence after the accident (in 1935) recommended that they be mandatory for WWII army dispatch riders. When the order for a regulation for all motorcyclists to wear helmets was debated in the House of Commons thirty years later, in April 1973, many MPs regarded it as a gross infringement of personal liberty. Nonetheless, it came into force in June of that year.