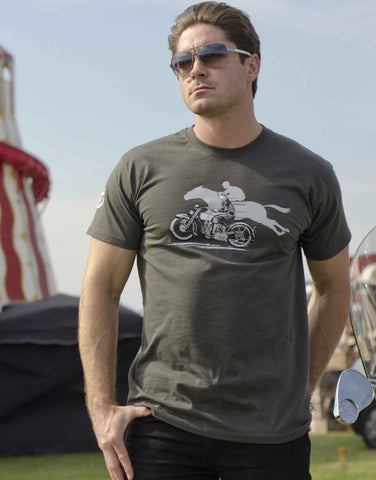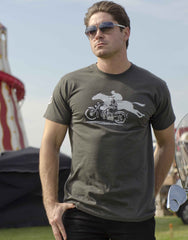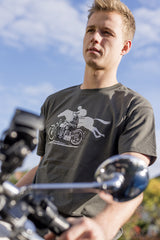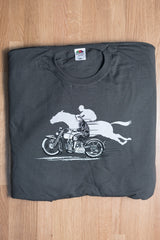 Men's light graphite T-shirt featuring a 1932 Harley/Horse Race
Back a winner
A horse races the Harley-Davidson 74 'stick shift' in the style of the 1932 ad for the V twin model of that name…iconic ad, iconic bike – and now iconic T-shirt. And hoody too. We've also got XL in a light grey.
100% cotton – fine gauge, extra soft Belcoro® yarn
Great to wear – with features like taped neckline for extra comfort
Beautifully finished with twin needle stitching detail (165gm/m2)
Highly durable, great shape retention and machine washable at 40°
The plain facts:
This Harley-Davidson 74

 

's

tick 

s

hift'

 (flathead) was built in 1932. The first 74 cubic inch V-twin engines, however, had originally been introduced on the JD and FD models back in 1922.
And some rather more colourful, esoteric little snippets for the real enthusiast …
By 1933, one year after the arrival of the Harley-Davidson 74, the motorcycle industry was feeling the effects of the Great Depression. In a move to stimulate sales, Harley-Davidson began painting an art-deco 'eagle' on all gas tanks. This marked the start of graphic eagle designs on all Harley-Davidson motorcycles
Harley-Davidson are renowned for their big V-twin engines (as first introduced in 1922). In WWII, however, the US Army requested they developed a model based on a captured Nazi BMW horizontally opposed, shaft-driven R71. This was the XA. The XA oil temperature was said to run 100°F (37°) cooler than the V-twin Harley-Davidson of the time. But the XA did not last long and production ceased before the end of the war
The Harley-Davidson story began back in 1901 when one William S. Harley, aged 21, completed a blueprint drawing of an engine designed to fit into a bicycle. Two years later, in 1903, William S. Harley and schoolfriend Arthur Davidson made the first Harley-Davidson motorcycle from a small wooden shed which served as their 'factory'. By 1904, the first Harley-Davidson dealer opened for business, by 1907 the Harley-Davidson Motor Company was incorporated and by 1920 Harley-Davidson was the world's largest motorcycle manufacturer, with over 2,000 dealerships in 67 countries.