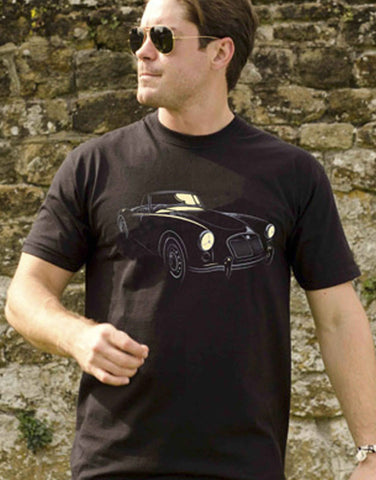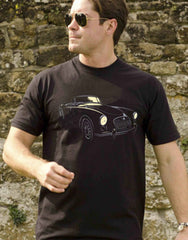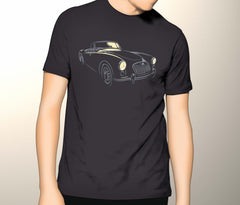 Celebrate the gorgeous looking MGA with our 100% cotton T-shirt in black!
Currently Unavailable
Relaunched under #bigs66 at Redbubble with over 50 designs > https://www.redbubble.com/people/bigs66
The MGA was officially launched at the Frankfurt Motor Show on 26th September 1955.
Skillfully crafted 2 colour illustration silk screened onto quality Fruit of the Loom t-shirt

 Illustration influenced by 1950s US advertising style

100% cotton – Fruit of the Loom fine gauge, extra soft Belcoro® yarn (165gm/m2)
Great to wear – with features like taped neckline for extra comfort
Beautifully finished with twin needle stitching detail
Highly durable, great shape retention and machine washable at 40°
Small white 'Legends' logo below neckline on rear (3 inches wide)
The plain facts:
The MGA was one of a new breed of stylish post war, modern looking British sports cars. They become valuable revenue earners in post war Britain and of 101,081 units produced (all variants) over 95,000 were exported, many to the US and 90% were roadsters 

Although the MGA DNA dates back to the 1951 MG TD Le Mans car, a complete new chassis and BMC 'B' series engine were used on production cars (as MG Magnette saloon).

The MGA convertible had no exterior door handles and our car sports the regular steel road wheels (wire wheels available at extra cost) and premium Lucas P700 'Tripod'  headlights.

Firstly the 1489 cc engine produced 68 hp (51 kW), but was quickly uprated to 72 hp (54 kW). The later Mk2s increased engine capacity to 1622 cc reaching a top speed of 105mph and 0-60 acceleration of 12.8 seconds. Lockheed hydraulic drum brakes were used on all wheels at launch. 

In 1955 The Motor reported a top speed of 97.8 mph (157.4 km/h) and 0–60 mph (97 km/h) acceleration in 16.0 seconds, fuel consumption of 26.7 miles per imperial gallon (10.6 L/100 km; 22.2 mpg-US) was also recorded. The Motor test car cost £844 including taxes.
And some rather more colourful, esoteric little snippets for the real enthusiast …
Elvis Presley appeared in the 1961 film Blue Hawaii with an MGA which he subsequently bought. The film was art directed in a marketing style which really helped promote the car prior to its successor, the MGB being launched a year later in 1962. The 'Blue Hawaii' MGA has pride of place at Elvis's home Graceland in Memphis, Tennessee.

The MGA raced extensively in the U.S. with considerable success. In Sports Car Club of America competitions the nimble MGA won numerous regional and national championships.