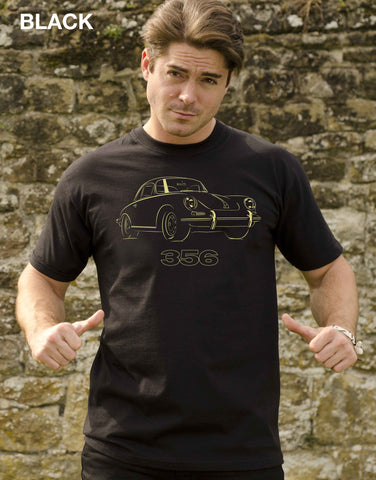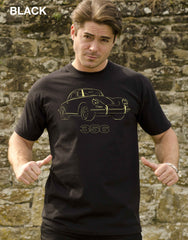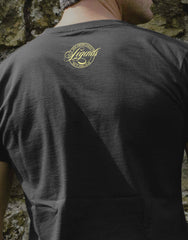 Celebrate the stylish lines of the Porsche 356 in our black 100% cotton quality regular fit T-shirt
Currently Unavailable
Our regular fit T-Shirt in Black, with cream chalk graphics front and rear.
A similar design has now been issued on our page on Redbubble, check out > https://www.redbubble.com/people/bigs66
The illustration takes inspiration from a a mid 1960s SC coupé in a style reminiscent of Bernd Reuters – who produced some iconic images for VW in the 1950s. Also available in Light Graphite and a Red v-neck.
Quality Fruit of the Loom product
100% cotton – fine gauge, extra soft Belcoro® yarn
Great to wear – with features like taped neckline for extra comfort
Beautifully finished with twin needle stitching detail (165gm/m2)
Highly durable, great shape retention and machine washable at 40°
Small 'Legends' logo below neckline on rear 7.5cm.
The plain facts:
With an unmistakable family resemblance to the original VW Beetle (designed by Ferdinand senior) the Porsche 356 was developed by his son Ferdinand 'Ferry' Porsche and designer Erwin Komenda.
The very first 356 Porsche production car was introduced on June 8

th

, 1948 initially based in Gmünd, Austria. Production of the first fifty 356's was in Austria however the company relocated to Zuffenhausen in Germany in 1950. Production continued at the same German factory from 1950 through to April 1965 (until the model was replaced by the 911/912). A total of 76,313 (all 356 variants) were produced over a 15 year period
"Ferry" Porsche had always driven his cars quickly. He'd had an Alfa Romeo, a BMW and by the end of the war a Volkswagen Cabriolet with a supercharged engine – that was the basic idea for the 356. 'I saw that if you had enough power in a small car it was nicer to drive than an overpowered bigger car; and more fun too'. On this basic premise the Porsche 356 emerged
The first 356 Porsche used various parts and engine case from the Volkswagen Beetle, an air-cooled pushrod OHV flat-four engine however Porsche redesigned the cylinder heads, camshaft, crankshaft, intake and exhaust manifolds as well as dual carburetors, more than doubling the VW Beetle horsepower
Development over the next 15 years increased power from 1100cc (40bhp) through to the final 2 litre DOHC B4 model producing almost 130bhp. Race development engines were fine tuned to 192bhp.
And some rather more colourful, esoteric little snippets for the real enthusiast …
In 1939, prior to WW2 Porsche prepared three Type 64 cars initially for a Berlin to Rome race (eventually cancelled). Officially development ceased between 1939-1945 (WW2) however at the end of the war Porsche continued refining the car until its launch in 1948.